You look in the rearview/side view mirror and see flashing red lights and hear the blast of a siren. You realize that the police car approaching from behind is after you. You feel that sudden sickening sense and may even wonder, "What did I do?" But the simple fact of the matter is that you are being stopped by the police–now what do you do?

The scenario above is experienced every day by thousands of New Jersey motorists. Generally speaking, it is rare that a day goes by when each of us, as a driver, does not commit a "technical" violation of the New Jersey Traffic Laws. After all, there are more than a thousand subsections of this code. Although most are definitive in nature, hundreds are sections that lead to enforcement actions such as traffic tickets.

First, it is important to recognize that even the best drivers commit driving errors and those errors can occur for many reasons. Most drivers do not intentionally violate the law. Quite the contrary, people generally obey the rules of the road; however, a momentary distraction, perhaps being lost or unfamiliar with the roadway in a particular city, or thinking about getting to that next appointment can divert your concentration just enough to make a mistake. We all know the old saying, "There is never a police officer around when you want one." Well, we can add another saying, "There is always a police officer around when I make a driving mistake."

So let's get down to the basics–you do not want a ticket! When the police officer pulls behind you and you see the emergency lights, the law requires that you immediately pull to the right-hand edge of the roadway, clear of any intersection, and yield to the emergency vehicle. You must pull over as quickly and safely as you can. If the officer wants you to stop elsewhere, he or she will direct you to another location. Sometimes this direction is given by the officer using the public address system located in the police car, and occasionally the officer may give you hand signals directing you where to stop. This is not an attempt to embarrass you; it is merely a desire to find the safest place for both of you to stop.

The officer will approach in a manner that will promote the maximum safety for him or her. When the officer first makes contact, he or she will usually ask for your driver's license, registration, and proof of insurance. The law requires that you have each of these items in your immediate possession and that you present them upon request by an officer. The law further states that if you do not have your license or "other satisfactory evidence of identification," you are subject to physical arrest. It cannot be stressed enough how important it is that you have your identification with you while driving. Officers are not going to allow you to go home to get your identification, nor will they wait for a friend, family member, or associate, to bring your license to the location of the stop. The officers will enforce what the law requires for those who drive without proper identification and/or suspended licenses and that is in all probability to place you under arrest. Now, back to the actual stop.

With the initial contact, the officer may tell you why you were stopped, or may ask, "Do you know why I stopped you?" In either instance, respond politely! If you do not know why you were stopped, do not hesitate to ask. As we noted above, not everyone is aware of what they may have done wrong to be pulled over by the officer. A good example is if the officer stopped you because your taillight burned out. You may not have been aware that the light was not working. Keep in mind that you are being contacted by a professional who sees this interaction with you on a totally impersonal basis. The officer does not "have an axe to grind," does not "hate you," is not "out to get you," or "does not have better things to do." Quite the contrary, the officer is just doing a part of his or her job. In fact, the least desirable part of any police officer's job is issuing traffic citations. This is a critical fact to remember, because the issuance of a traffic ticket is totally at the discretion of the individual officer who stops you. Your odds of receiving a verbal warning are the same as getting a ticket. So work to shift the odds in your favor.

But how do you tilt the scale? First, as mentioned earlier, be polite! If you believe you did not commit a violation, then ask if you can explain yourself, but do not argue. When you display courtesy and even acknowledge the possibility of making a mistake, the officer may be more inclined to believe the contact has been effective and feels a warning is appropriate. If you have an excellent driving record, do not be afraid to say so, officers recognize that a clean record indicates a responsible driver. Be truthful. Remember, if the officer runs your driving history through the computer and finds that you have a long history of violations, he or she will know you are lying and the odds will shift back to having the citation being issued.

Many factors influence whether a citation will or will not be issued. Violators who commit "blatant" or hazardous violations are more likely to receive tickets. Drivers who commit minor offenses, such as failing to signal before changing lanes or turning, are very likely to walk away with warnings if the officer perceives you to be cooperative and responsive. But what is the absolute, best way to avoid a ticket? Drive carefully! Obey the laws, and do not rush. People in a hurry are more prone to commit violations than anyone else. They take chances by speeding, not coming to full stops at stop signs and signals, following other cars too closely, and changing lanes unsafely.

The burden of safe driving falls upon each individual who sits behind a steering wheel. Take the time to periodically inspect your car to ensure the lights are working and all of the safety devices are operational. Also, think before you drive and drive responsibly. Although most of us get irritated and upset if we are stopped, especially if we receive a citation, it does not change the fact that the traffic officer is simply trying to promote a safe environment for everyone who uses the roads and highways. The officer would like to make sure that you live to drive another day. Finally, you will "avoid that ticket" if you remember the following: be polite and courteous, be respectful, and take responsibility for your driving actions.

Costly command: "License and registration"


Those whirling red/blue lights in the rearview mirror usually mean just one thing: It's traffic ticket time. The worse the violation, the more your car insurance costs may rise because it's more likely you'll be considered a bigger risk to the insurer. Rack up a combination of the nastiest violations plus a few accidents, and insurers may even refuse to cover you, says Loretta Worters, spokeswoman for the Insurance Information Institute, a trade group.
It boils down to matching the premium you pay to your risk as a customer, says State Farm spokesman Dick Luedke.

"Sometimes you get lucky and violate (traffic laws) a lot and don't get caught, and sometimes you do it once, and you are caught," he says. "That's why we use all sorts of other things to measure risk as well." So it's tough to say how much your insurance premiums will rise per violation. Different insurers calculate premium costs differently, Worters says.
With the help of experts, including J. Robert Hunter, insurance director for the Washington, D.C.-based Consumer Federation of America, we now identify what are considered the five worst traffic violations for your insurance bills.


To increase enforcement of DWI laws and send a message to motorists who drink and drive, EOPD launched the DWI Enforcement Team. The unit, which is under direction of the Traffic Section, is comprised of six traffic officers and one sergeant. As a dedicated DWI enforcement unit, the Enforcement Team is able to concentrate its patrol efforts on apprehending drunk drivers. Patrols focus on areas where DWI offenses are most likely to occur (entertainment areas featuring bars and nightclubs, for example) during times when most drunk drivers are on the roads (evenings, weekends and holidays).

In addition, members of the Enforcement Team are able to provide support to regular patrol officers during peak offense times, relieving patrol officers by handling the lengthy processing of arrests. The working relationship between regular patrol and the Enforcement Team increases the efficiency of the Department as a whole in removing drunk drivers from our roads. All of our traffic enforcement vehicles are equipped with audio/video cameras recording every motor vehicle stop to ensure integrity and to protect the officers from false accusations.
Alcohol Awareness

Definition of Impairment
In New Jersey, a person is guilty of drunk driving if he/she operates a Concentration (BAC) of 0.08 (old BAC was 0.10%) percent or greater. BAC refers to the amount of alcohol in your blood. Although the law refers to a 0.08 percent BAC, you can be convicted of driving while under the influence of intoxicating liquor even when your BAC is below 0.08 percent. Consuming even small amounts of alcohol dulls the senses, decreases reaction time, and hampers judgment, vision and alertness. If you consume any amount of alcohol and your driving is affected, you can be convicted of drunk driving.
New law Enacted in 2000-
A new provision (Public Law 99, Chapter 410) was added to New Jersey's driving under the influence laws and penalties.
A parent or guardian who is convicted and who has a minor under age 17 as a passenger in the motor vehicle is also guilty of a disorderly persons offense.
In addition the penalties otherwise prescribed by law, a person shall forfeit the right to operate a motor vehicle for period of not more than six months and shall be ordered to perform community service for a period of not more than 5 days.
First Offense a fine of $250-$400* imprisonment for up to 30 days* 6 months to 1-year license suspension* a minimum of 6 hours a day for 2 days detainment in an Intoxicated Driver Resource Center (IDRC), at a charge of $75 a day an automobile insurance surcharge of $1,000 a year for 3 years $100 surcharge to be deposited in a drunk driving enforcement fund a Division of Motor Vehicles restoration fee of $50 and an Intoxicated Driving Program fee of $100 a Violent Crimes Compensation Fund fee of $50 a Safe and Secure Community Program fee of $75
Second Offense a fine of $500-$1,000* imprisonment of at least 48 consecutive hours, and up to 90 days* 2 - year license suspension* 48 consecutive hours detainment in a regional Intoxicated Driver Resource Center, at a charge of $100 a day an automobile insurance surcharge of $1,000 a year for 3 years $100 surcharge to be deposited in a drunk driving enforcement fund a Division of Motor Vehicles restoration fee of $50 and an Intoxicated Driving Program fee of $100 a Violent Crimes Compensation Fund fee of $50 a Safe and Secure Community Program fee of $75
Third Offense a fine of $1,000* imprisonment of 180 days 10 - year license suspension* detainment in an in-patient alcoholism treatment program requirements set by the Intoxicated Driving Program/Intoxicated Driver Resource Center a fee to be paid to the Intoxicated Driver Resource Center dependent upon court sentence an automobile insurance surcharge of $1,500 a year for 3 years $100 surcharge to be deposited in a drunk driving enforcement fund a Division of Motor Vehicles restoration fee of $50 and an Intoxicated Driving Program fee of $100 a Violent Crimes Compensation Fund fee of $50 a Safe and Secure Community Program fee of $75
Registration Revocation/Ignition Interlock
Addition to the penalties listed, judges may order the installation of an ignition interlock device or the revocation of vehicle registration (Public Law 2000, Chapter 83). The ignition interlock device, which measures the driverÕs blood alcohol level, may be required for up to three years following license restoration after a DUI conviction.
Consequences of Underage Drinking and Driving -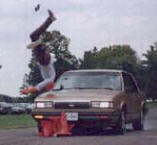 In New Jersey, you must be 21 to purchase, possess or consume alcoholic beverages. Underage drinking is illegal and can have severe consequences for young people who drink and for adults who provide alcoholic beverages to those under 21.
Buy or drink alcohol in a place with an alcohol beverage license, and you may be fined $500 and lose your license for 6 months. If you do not have your driver's license, the suspension starts when you are first eligible to receive a license. And you may be required to participate in an alcohol education or treatment program.
If you are under 21 and drive with any detectable amount of alcohol in your system (.08 BAC or above), you will be subjected to the following penalties:
loss or postponement of driving privileges for 30 to 90 days 15 to 30 days of community service participation in a program of alcohol education and highway safety * If occurring within a school zone or school crossing, this penalty is increased under Public Law 99 Chapter 185.
Seat Belts... Why Buckle Up?

Studies show seat belts do save lives and reduce injuries during crashes.
Seat belts work with air bags to protect occupants. Air bags alone are not enough to safeguard occupants.
More than 2,000 unbuckled drivers and front seat passengers died on New Jersey's roadways in the past 10 years.
Approximately 700 unbuckled drivers and front seat passengers were thrown out of their vehicles during crashes and killed in the past 10 years.

New Jersey's Seat Belt Law:
(NJS 39:3-7.2F)
Applies to all passenger vehicles including vans, pickup trucks and SUV's, that are required to be equipped with seat

belts.
Applies to all passengers, who are at least 8 years of age but less than 18 years of age, and each driver and front seat passenger of a passenger automobile, operated on a street or highway. All occupants are required to wear a properly adjusted and fastened seat belt system.
Makes the driver responsible for proper seat belt use by all occupants who are under the age of 18.

Road Rage....What To Do If You Are Confronted By An Aggressive Driver?
People who drive aggressively and disregard the safety of others on the road can escalate into a ROAD RAGE incident. Because of this, The East Orange Police Department and NHTSA recommend that you:
Make every attempt to elude them and stay out of their way.

Check your self-respect. Do not challenge them by speeding up or attempting to hold-your-own in your travel lane.

Avoid eye contact.

Ignore gestures and refuse to return them.

If you have a cell phone, and can do it safely, call the Police.

In an emergency situation Only you can use your cell wireless phone without the aid of a hands-free device. (New Jersey Law effective July 1st 2004)


Children up to age 8 or 80 pounds must ride in a safety or booster seat in the rear seat of the vehicle. If there is no rear seat, the child must sit in the front seat secured by a child safety seat or booster seat. Children under age 8 who weigh more than 80 pounds must wear a seat belt anywhere in the vehicle. Passengers age 8 to 18 (regardless of weight ) must wear a seat belt anywhere inside a vehicle.
New Child Seat Law
Began December 1, 2001

1. Read the manufacturer's instructions for your car seat.
2. Face the child safety seat in the proper direction. Infant seats always face backwards. Baby rides in a semi-reclining position facing the rear of the car. Convertible seats face backwards in a semi-reclining position for infants under 20 pounds and under 1 year of age, and forward in an upright position for toddlers.
3. Secure your child snugly in the car seat. Always buckle the seat's harness system securely to hold your child safely in the seat. Allow no more than one finger-width of slack between your child's collarbone and the harness strap.
4. Secure the child car seat with a seat belt. Anchoring the seat properly with a seat belt is critical. A seat that is not buckled securely to the car can tip over, slide sideways or, in a crash, be ejected from the car. Check your instruction manual to find out how to route the seat belt properly and fasten it tightly.
Bicycle Safety
The Division of Highway Traffic Safety assists county, municipal and law enforcement agencies with education, public awareness and enforcement of the bicycle helmet law and other bicycle safety issues.

Each year, bicyclists are killed or injured in New Jersey due to bicycle crashes. Many bicycle deaths result from bicycle-motor vehicle collisions. However, injuries can happen anywhere, including parks, bike paths and driveways, and often do not involve motor vehicles.
Head injury is the most serious injury type and the most common cause of death among bicyclists. The most severe injuries are those to the brain that cause permanent damage.
Never ride a bicycle without a helmet. New Jersey law states that anyone under the age of fourteen (14) riding a bike, even as a passenger, must be wearing a properly fitted and fastened bicycle helmet which meets the standards of the Snell Memorial Foundation, the American Society of Testing and Materials (ASTM) or the U.S. Consumer Product Safety Commission.
A child who violates this law will be warned of the violation by the enforcing official. The parent or legal guardian of the person also may be fined up to $25 for the first offense and up to $100 for a subsequent offense. Bicycle helmets should be used by everyone who rides, as helmets have been shown to reduce head injuries by 85 percent. For children, use the extra padding that comes with the helmet to ensure proper fit.
Have you been "Saved" by a Bicycle Helmet?
If you or someone you know has been saved from serious injury or death during a crash by wearing a bike helmet, contact the NJ Division of Highway Traffic Safety to receive an application for membership in our "Saved by the Helmet Club".


Pedestrian Safety


New Jersey experience a disproportionate number of pedestrian injury crashes and fatalities compared to the nation as a whole. To combat the problem, the Division of Highway Traffic Safety assists local and county agencies in the development of pedestrian safety programs involving Education, Enforcement, and Engineering.
Cross at intersections only. The intersection is where drivers expect to see you.


Never cross from in-between parked cars. Many children are killed or injured in non-intersection accidents when they run into the roadway from between parked cars.


Before crossing, look left, right and left again. And always listen for oncoming traffic.


Make sure you can be seen at night. Wear white or light colored clothing when walking at night. Attach reflective materials to coats and shoes or wear reflective armbands. In areas with no sidewalk, walk as far off the roadway as possible. Remember to walk on the left side of the road, facing traffic.


Obey all traffic signs and signals. Children should be discouraged from playing on driveways and sidewalks near the roadway.

For information concerning motorcycle permits, licensing and the Graduated Driver License program (GDL), please visit Motor Vehicle Services website at: www.state.nj.us/mvs