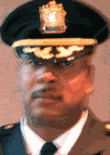 Chief William C. Robinson


East Orange Police
Department
15 South Munn Avenue
East Orange, New Jersey 07017


Updated: 03-25-2015


11-05-2014
East Orange Police Officer Shot. Click On
This Link To Get More Specific Details.


There are approximately 900,000 sworn law enforcement officers now serving in the United States. About 12.0 percent of them are female. Crime fighting has taken its toll. Since the first recorded police death in 1792, there have been more than 21,037 law enforcement officers killed in the line of duty. 2009 was a particularly perilous year for police officers involved in gun disputes, reports the Associated Press. The number killed in the line of duty by gunfire increased 25 percent from 2008, say preliminary statistics from the National Law Enforcement Officers Memorial Fund. In 2009 49 police officers had died nationwide after being shot while on duty, up from 38 for the same time in 2008, which was the lowest number of gunfire deaths since 1956. During the past ten years, more officers were killed feloniously on Friday than any other day of the week. The fewest number of felonious fatalities occurred on Sunday. Over the past decade, more officers were killed between 8:01 p.m. and 10:00 p.m. than during any other two-hour period. There were 242 police deaths in 2001 nationwide, which represents a 48 percent increase from the 163 officers who died in 2000. In 2002 there were 147 police deaths nationwide – a significant decrease from 2001. There were 147 officers killed in 2003, 163 police deaths reported in 2004 a 8% increase, 161 officers killed in 2005, 147 officers killed in 2006, 181 killed in 2007, 132 killed in 2008, 120 officers killed in 2009 down 6% from 2008, 163 officers killed in 2010, 126 killed in 2012 and last year 2014 there were 118 officers killed. 2007 was a deadly year for U.S. Law Enforcement: Officer fatalities rose more than 24 percent to the second highest total in nearly two decades; fatal shootings surged 33 percent, while a record 81 officers died in traffic-related incidents. Averages: Every 53.0 hours an officer is killed...131 deaths per year...over 57,500 assaults per year resulting in approximately 17,933 injuries per year.